MECOOL has launched two TV sticks: a 4K HDR streaming android smart TV Stick MECOOL KD3, and the latest Android TV Stick MECOOL KD5. Much like the KD3, the KD5 is also a streaming stick with a small profile and runs on Android 11 TV OS with built-in Chromecast and Google Assistant. Both of them are Google & Netflix certified.
The common features as follow
*Thousands of best Apps on Google Play including Netflix, Amazon Prime Video, Disney+, YouTube, etc
*Voice search and navigation via Google Assistant
*Easily cast your favorite movies, music, and more to TV with Chromecast built-in
*The 2.4GHz/5GHz Dual-Wi-Fi ensures the stable and strong network signal connected through Ethernet or Wireless
*Play Games on TV brings your life to the next level
*Easily to do home screen customization
*Controlling smart home devices makes your house so cool
But exactly what is the difference between them? Dive in to find out.
Basic Specification Comparison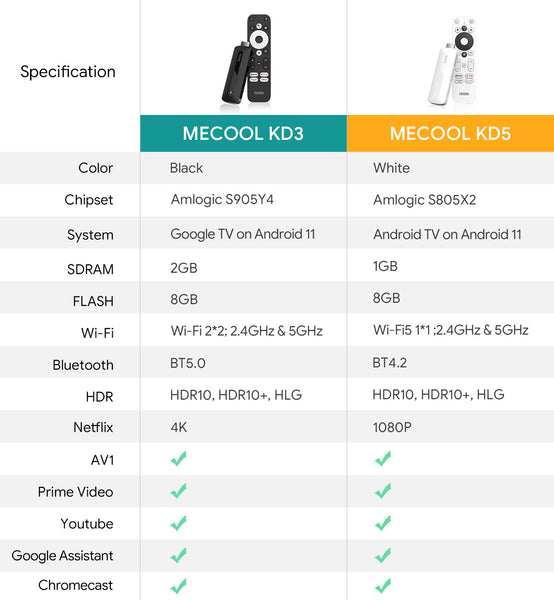 Price and availability
KD5 FHD TV Stick now is available for $49.99 (after our coupon code: 10KD5 for $45). The 4K streaming device MECOOL KD3 can be purchased at $62.99 (after our coupon code:10KD3 for $56.7 ). If you need a 4K TV Stick, you can choose the MECOOL KD3 TV Stick with Google TV OS. 
Expand Internal Storage
As with most other MECOOL Android TV devices, you can expand internal storage on the KD3 & KD5. To do this, you need an OTG cable so you can connect a USB drive to the stick.
In this video, it shows that you could easily expand internal storage if you have the demand and Apps could be installed onto an USB drive to save storage. Check this video for how to do it.