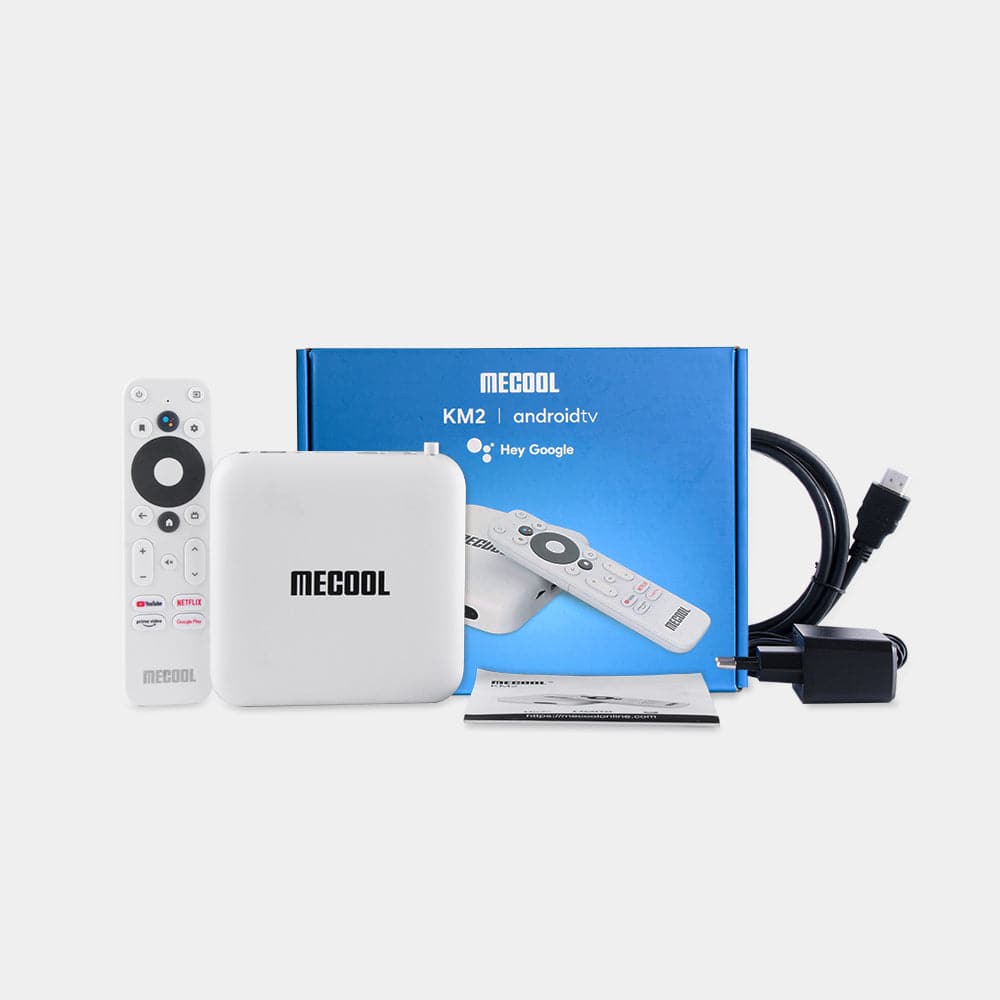 MECOOL KM2 Andriod TV Box
Android TV and Netflix certification
Endless Android TV Apps on Google play including Netflix, YouTube, Prime Video, Disney+ , Hulu, etc
4K Ultra HD Streaming Android IPTV Player Vstro Player
Built-in Chromecast and Google Assistant
Equipped with Amlogic S905X2
2GB RAM 8GB ROM

MECOOL KM2 is an Andriod TV 10-powered media player with the new Google reference design remote control. Except for the old features of the MECOOL Android TV box which include Google official Android TV 10 OS,Chromecast built-in, Google Assistant supported, 4k HDR, Prime Video, Youtube 4K, etc. MECOOL KM2 Set-top box has built-in the Netflix for TV version with an Android operating system. It supports Netflix's 4K streaming!
Hardware details:

KM2 Android TV device is powered by Amlogic S905X2-B SoC (quad-core Cortex-A53 processor). MECOOL KM2 ATV Android TV Box comes with 2GB RAM DDR4 and 8GB eMMC. In addition, the device will be supporting Dual-band WiFi 802.11ac, Bluetooth 4.2, and Fast Ethernet (10/100Mbps). 
Among the I / O ports, we will find USB 3.0, USB 2.0, Micro SD, Ethernet, DC jack, HDMI 2.1, AV, and SPDIF ports. More below.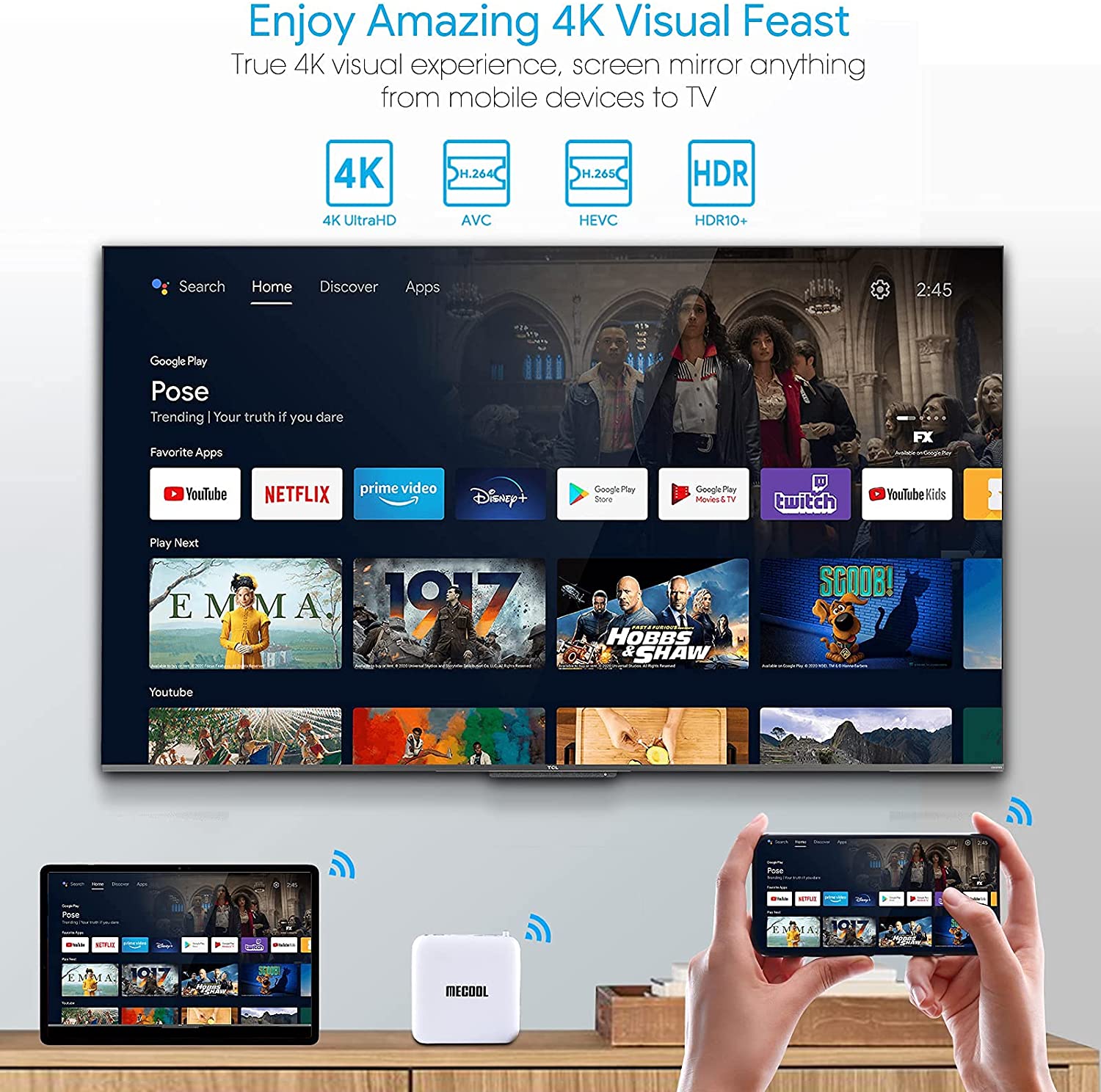 Widely acclaimed:
MECOOL KM2 4K Streaming Device Overview Features As we mentioned, the new KM2  is a Google-certified TV Box and runs on Android TV 10 OS. Of course, the device supports Google Assistant, and Chromecast built-in. Besides, has the most important certifications from leading vendors: Google, Netflix, and PrimeVideo. KM2 streaming device displays up to 4K @60fps streaming content also from other popular streaming services like Disney+, HBO, etc. The device supports 4K HDR, HDR10, and Dolby Audio.
 by-androidtvbox
The remote is absolutely fabulous. There are four shortcut buttons available on the MECOOL KM2 for YouTube, Netflix, Amazon Prime Video, and Google Play.  These buttons are truly handy for those who use these apps on a regular basis.
This version of Android TV is more bare-bones which I like more as I don't use a lot of paid services.
by-troypoint
Note:

Plug Type

Some countries can only use one type of charger, please make sure the specification of the charger can be used in your country before making the order. we don't take responsibility if you buy the wrong charger specification.

For customers who purchased KM2 and the Shipping address is in the United States or EU countries: We provide rapid delivery from a local warehouse, The plug tape of KM2 will default to ship with US or EU plug. (If you need other specifications, please note when placing an order)
Great Android Box
Fast and easy setup. Have 4 now.
No updates or whatsoever, once the cash is in, the support ends.
The device is nice, but there have been released ZERO security updates eversince I bought the device two years ago. Are we ever going to get ANY update?
Android TV 14 would be nice. Wasn't there an agreement with Google that you had to provide at least two updates?
I guess you get what you pay for with these cheap boxes.
Km2 se queda en el logo
Mecool Km2 tenia problemas al inicio logre reset de fabrica pero continuo con problemas y ahora se queda en el logo de inicio y no responde.
Hello
Thank you for your feedback.
We have sent the solution to your email.
Problem with km2
Good morning.
A week ago my tv box (mecool km2) began to have failures with the applications, with the cable internet and I could never connect it to wifi, so I would like to reset it or upgrade the version if there is a new one.
Could you please tell me what are the steps to follow.
Thank you so much.
Hello
Thank you for your feedback.
Please feel free to contact our tech team for the tech support: service@mecool.com
Se bloqueó
Compré el mecool km2 en esta página hace un año y salió muy bueno, pero hace unos días de estar funcionando se bloqueó y lo que hice fue apagarlo y al encenderlo de nuevo ya no funcionó. Prende pero ya no manda ninguna señal a la pantalla. Alguien sabe cómo hacerle reset, reiniciarlo de fábrica? A ver si vuelve a funcionar?
Hello
Thank you for the feedback.
Please kindly contact us: contact@mecool.com
We will send you instructions for factory reset.
KM2
Excellent box I have purchased a lot of these and very pleased with their performance.
MECOOL KM2 Andriod TV Box